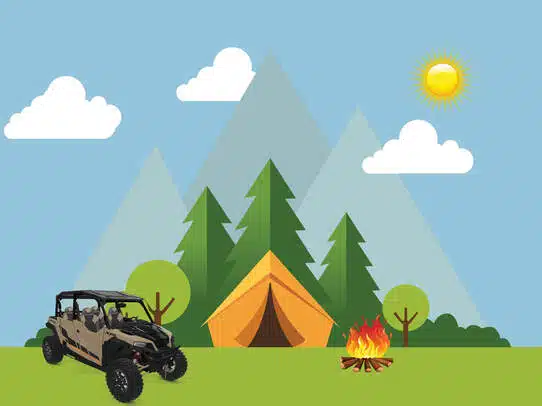 PLAN AN EPIC CAMPING TRIP USING SIDE-BY-SIDES
​Camping is a blast! However, not everyone wants to hike many miles with all their gear to get to that secluded camping spot. Most cars aren't equipped to handle the backcountry of the Rocky Mountains either. A solid alternative is using UTVs (utility terrain vehicles) to explore and find that perfect camping spot.
ENJOY MORE COMFORTS
Driving an off-road vehicle to find your camping spot provides an excellent experience and offers many practical uses. This method will allow you to pack larger and heavier equipment. You'll have enough room for a cooler, cooking supplies, extra bedding, firewood, and more. Most importantly, there will be space for you to bring company and even your dog.
RENT AN OFF-ROAD VEHICLE WITH GREAT OUTDOORS ADVENTURE
You can bring your own UTV or rent one from Great Outdoors Adventures (GOA). GOA offers easy and convenient off-road rentals using the latest Polaris UTVs that seat 2, 4, and 6 people at a time. Rent multiple vehicles for larger groups. The adventure starts at GOA's private trailhead near Westcreek, Colorado where our professional staff will set you up with the rented UTV, helmets, GPS Navigation, and lots of safety tips. Your safety is always a priority! Personal cars can be left at gated trailhead for overnight and multi-day rentals.
Learn more about ­GOA's policies and requirement to make sure this is a good fit for you.
HELPFUL & TRUSTWORTHY NAVIGATION KEEPS YOU SAFE
​When renting a UTV from GOA, they provide user-friendly GPS navigation on a tablet. The custom map, created by Great Outdoors Consultants' team, will help you find the perfect camping spot. Dispersed camping is allowed in the Pike National Forest where GOA rides take place. It may take more than one try to find the right camping spot, luckily there are many! GOA's staff will recommend camp sites, but it's on a first come first serve bases for all sites.
STAY SAFE AND BE RESPONSIBLE
​You will have a great time camping if you're aware of safety recommendations shared by the Forest Service. GOA can't guarantee your safety, but they will do their best to prepare you and make sure you feel comfortable before heading out on your trip. It's great you've taken the opportunity to do more research on how to stay safe.
Colorado is full of wild beauty, also wild animals. You might encounter deer, elk, moose, bear, or others. Best to admire them from a safe distance. Never feed the wildlife. Read the article "Bears" from Colorado Parks & Wildlife to learn more about them and how to avoid a bear infiltration in your camp.
CAMPFIRES
​Gathering around a campfire after a fun and long day is one of my favorite experiences to enjoy while camping. To have a safe & responsible fire please be aware of fire restrictions in the area and follow the Forest Service's regulations. For instance, "may gather small amounts of down, dead wood for a campfire." Use existing fire rings; keep your campfire small and always make sure it is completely extinguished [cold to the touch] before leaving. No campfires outside of [established] overnight sites" (Forest Service Dispersed Camping).
WHAT SHOULD I BRING?
In order to have the best experience you'll need to prepare the right camping gear and be well informed about the expected weather.
Essential Gear:
Tent
Sleeping bag
Food
Water
Toilet paper
Trash bags
Flashlight
Fire starter
You can also bring extra comforts like a cooler, cooking gear for camping, extra bedding, hammocks, and so much more.
Colorado Gear Lab in Woodland Park, CO is a great place to buy new and used camping and outdoor gear. You can rent camping gear from places like Outdoors Geek in Denver, CO and other sites online. If you are renting, make sure to plan several weeks in advance.
RESPECT THE LAND YOU EXPLORE
​Camping is a great way to get in touch with nature and enjoy beautiful scenery. You'll exploring the backcountry and enjoy places others don't see often. Respect the land and all the creatures that call it home by picking up after yourself and others. Leave your campsite better than you found it.
Thank you for reading GOA's blog. We hope you enjoy a safe and fun camping trip.